Mikki koomar sponsored free grooming sessions, and Plant a tree movement presenting under the guidance of Jackie shroff
About plant a tree movement :
Plant a tree movement is the campaign initiated under the guidance of Actor Jackie shroff in association with pedlagaobhidu and managed by Mayank Agarwal.
we already have planted more than 5000+ saplings across the country featuring Delhi, Pune, Mumbai, Banglore, Hyderabad and Kanpur.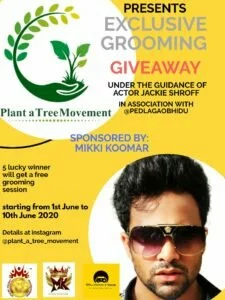 Therefore we need more youth to join this campaign and give their valuable contribution towards the society and conserving mother Earth.
So lets together hold the hands and make this campaign into big success.
What u all have to do:
1.plant a tree
2.click a selfie with them
3.post on insta by tagging @plant_a_tree_movement
4.use hashtags:
#jahamittivahaped
#pedlagaocampaign
#plantatree
#pedlagao
Please help us to carry forward this campaign and spread this to all of your knowns and ask then too to join us.
About Mikki Koomar:
Mr. Mikki Koomar has represented India in 15 countries as an International model, Brand ambassador, Athlete, Dance performer, Actor such as Paris, Italy, Argentina, Germany, Bangkok, Brazil, USA. He has felicitated as GLOBAL PEACE AMBASSADOR conferred by THE DIPLOMATIC MISSION GLOBAL PEACE INTERNATIONAL ORGANIZATION with UNITED NATIONS SUSTAINABLE DEVELOPMENT GOALS SG and WORLD HEALTH ORGANIZATION and felicitated as WORLD PEACE AMBASSADOR and WORLD AMBASSADOR for India's biggest community WOCKHARDT FOUNDATION. He has been appointed as PEACE AMBASSADOR conferred by the world's one of the biggest SPMUDA INTERNATIONAL ORGANIZATION FOR PEACE AND DEVELOPMENT, and CULTURAL AMBASSADOR for THE ROYAL HOUSE OF BALOI and appointed as a DIRECTOR at SPMUDA INTERNATIONAL CHAMBER OF COMMERCE AND INDUSTRY, INC – Philippines.
How to participate in this giveaway:
Steps To Enter :-
1) Like this post and follow @plant_a_tree_movement and @mikkikoomar
2) Tag 4 friends in the comment session in the giveaway post . All these friends should follow @plant_a_tree_movement and @mikkikoomar👈🏻account.
And hashtags:
#jahamittivahaped
#MikkiKoomar
#SessionwithMikkikoomar #internationaliconMK
3) Post the giveaway flyer In Your Story and tag @plant_a_tree_movement and @mikkikoomar
4) Comment as many as time you want to win.
5 Lucky winner will choose randomly anyone is not following any of these will be disqualified from the Giveaway!!!! So Hurry Up Give Away Will End On 10th June 2020.
Result will be announced on 11th June, 2020 12 PM on our Insta page.
Till then share, like, comments daily to increase your chance to win.
5 surprises are also waiting for you…