Come as a guest and leave as a friend. We're in the business of making memories."- JO DAVIS
The dynamic and enterprising Luxury Consultant, Madhavi Advanis's guest list is already touching the golden figure of 50. Her talk show's popularity is growing by leaps and bounds, nationally as well as internationally, even during the tough times of COVID 19.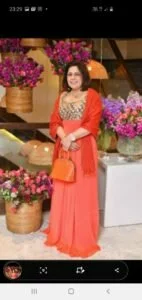 Madhavi Advani has had the privilege of interacting with some very eminent personalities, that include Padamshree's, ambassadors, CEO's, financial advisors, artists etc.
Name the field and the talk show has been a vibrant platform for many an interesting and informative discussions.
Madhavi Advani has always believed in expanding the horizons of her passion and leaves an indelible mark in the field of 'LUXURY', that reaches out to various corners of the world.
Harbouring the spirit of striving for what she firmly believes in, Madhavi has never limited herself to a 'BOX'. COVID 19 was definitely not going to limit her and this she has proven with her international guest list increasing by the day.
Her very popular talk show 'Madhavi Advani', is becoming quite the rage these days and all the episodes are now available on YouTube:
https://bit.ly/2AGbAwu
Some of the guests having graced the talk show, include: Angelo Garini (Party & Wedding planner for David Guetta, Naomi Campbell, Sarah Ferguson), Denise O'Brien (Humanitarian, Global Ambassador, Communication Strategist, Producer), His Excellency Nejmeddin Lakhal (Ambassador of The Republic of Tunisia), Padmashree Artist Kishn Kanhai, Dr. Shovana Narayan (Kathak Exponent, Padmashree & SNA awardee), Atika Farooqui (Journalist, Celebrity Show Host & Film Critic), Kaushalya Reddy (Renowned Kuchipudi dancer and Guru) Ayesha Khanna (International Fashion Designer & Choreographer)Salma Sultan (Ms United Nation in 1989, Doordarshan announcer & presenter 1967-68, Founder Sanskriti Saree's).
The list goes on to be endless and makes for very captivating and intellectual entertainment.
The talk show turned out to be a platform of ties too, for another international brand 'Naurah USA' and 'Luxuryco.biz'. The USA brand has now its Brand Ambassador in India 'Luxury Consultant Madhavi Advani'. Madhavi Advani who is already been associated with other international and national brands like Angelo Garini's 'Immagina', Salman Sultan's 'Sanskriti Sarees' and more.
The response to Madhavi Advani's show is seen by the testimonials being received:
Nejmeddine Lakhal to Madhavi's Luxuryco.biz- "It was a pleasure being on the show. A very cool friendly and informal great show"
‎Rashmi Vaidialingam‎ to Madhavi's Luxuryco.biz- "It was a great interaction with Madhavi. She is warm and approachable. Her in-depth analysis of the personalities that she is interviewing is very commendable. We had an animated discussion on various subjects."
Shreeya Katyal to Madhavi's Luxuryco.biz. – "It was an amazing experience being online with a beautiful person like you. Your Warmth and Kind words uplift the Soul and your interactions are really impressive. I really enjoyed Sharing my Journey with you at Madhavi's Luxury co. Talk show and it really feels great to see you bringing so many learned people on this platform to interact with the audience and share their inspiring stories.
Great Work! Much More Power to you! Rise and Shine!
Har Har Mahadev 🔱
– Universal Reporter
Shreeya Katyal (Author and Anchor)"
Bhawna Chawla Chopra to Madhavi's Luxuryco.biz. – "it's an honour to associate with Madhavi Advani. Its luxury redefined with her. Great initiatives…. excellent approach…. always. Keep going."
Ratika Seth to Madhavi's Luxuryco.biz. – "Madhavi always exudes positivity and enthusiasm…. the smallest idea will excite her as she loves trying out new positive experiences. She is genuine and speaks from her heart making you feel all warm and comfortable in her company."
Nikita Khattar Arya to Madhavi's Luxuryco.biz. – "Extremely happy to be part of Madhavi's Luxury Connect Live Shows. She is such a warm & humble soul with great achievements backing her. indeed, great chatting with her."
Kanchan Rai to Madhavi's Luxuryco.biz. – "working with Madhavi is really worth of all time
and efforts her positive attitude and creating opportunities in any given situation is really amazing."
Maithillee Zaveri to Madhavi's Luxuryco.biz. – "Madhavi is always ready to help others. She is very well known in her circuit & knows her job very well. I wish her all the best always for her future endeavours."
Liza Varma to Madhavi's Luxuryco.biz.-" It was wonderful to be a part of Madhavi Advani' s Luxury Meets Facebook series , she is doing a brilliant job in such times to make us connect to a large number of followers and tell our life stories to the World, congratulations on your mega success."